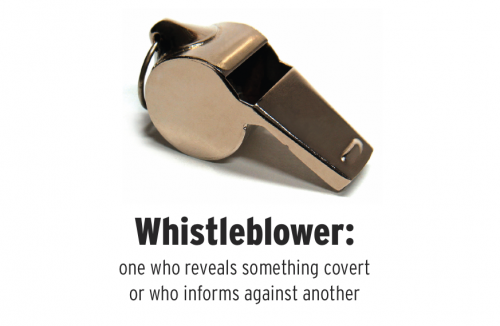 Faculty and staff can now anonymously report significant violations of Murray State policy, without fear of retribution.
By state law, employees have always enjoyed that right, but a national trend in higher education led the University Board of Regents to institute a new policy that is taking effect this week.
Employees can report suspicious behaviors on the part of their fellow employees.
Those include any violations of federal, state or local law; mismanagement; waste, fraud and the abuse of authority; or danger to the public health and safety.
Kentucky already has a whistleblower policy for public post-secondary education, but the new program has been tailored to fit Murray State.
President Randy Dunn said the new policy was created by the Board of Regents to provide a local way for faculty and staff to report procedure violations.
"I think for faculty and staff it provides an additional avenue to ensure that we're doing business of the University in the way our students who pay tuition dollars and the tax payers expect it to take place," Dunn said.
There are already several offices where students and staff can report complaints, such as Human Resources, Public Safety and the Internal Auditor's Office. The new whistleblower policy, however, will address more complex disregard of University policy.
Michelle Saxon, internal auditor, said this program will allow faculty and staff to voice serious problems directly to Murray State.
"There are mechanisms in place to deal with other complaints such as discrimination, sexual harassment or performance evaluations," Saxon said. "The whistleblower program should not be used for these types of complaints." Another component of the whistleblower program is the guaranteed anonymity when filing a report. Saxon said this quality should make faculty and staff more comfortable reporting a problem.
Faculty and staff can file a complaint online by simply clicking their employee tab in myGate, going to the bookmarks plus tab and clicking report concerns/whistleblower program. University employees can also print the form and mail it to Saxon.
If an employee wishes to leave a message on the complaint "hot-line" at 809-5599, the number of the caller will not be shown.
The full whistleblower program details can be found in the Statement of Ethical Principles and Code of Conduct. Saxon said employees are still encouraged to report their complaints to the state level if they wish.
"Although employees have always had the ability to report wrongdoing using the Commonwealth of Kentucky's whistleblower reporting process, we were asked by the Board of Regents to create our own whistleblower program based upon a recommendation by our external auditors," Saxon said.
The board first was presented with the idea of amending the Internal Audit Charter with a new whistleblower policy in September. The last two audits conducted by RubinBrown, an accounting and consulting firm, suggested Murray State should develop their own policy.
Dunn said there has been a national focus on university boards to implement systems such as the new whistleblower program.
Story by Lexy Gross, Assistant News Editor.