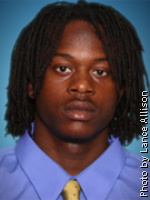 On the night of Nov. 25, freshman wide receiver Janawski Davis was jailed for an alleged armed robbery at the 300 building parking lot of The Chase.
On Wednesday, the prosecution will ask for the charges to be dropped in the case.
The defendant, Jalin Ladd of Cadiz, Ky., had identified Davis to Murray City Police during a routine traffic stop the same evening, prompting authorities to take Davis into custody.
However, Commonwealth Attorney Mark Blankenship said the evidence was not strong enough for the case to stand, though investigation into the charges can continue.
Judge Randy Hutchens will conduct the preliminary hearing for first-degree robbery for Davis at 9:30 a.m. tomorrow in Calloway County District Court, at which time the next step in the case will be determined.