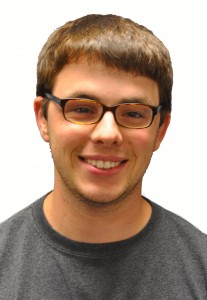 A few weeks ago, I went to Charleston, S.C. to cover the basketball team at the Charleston Classic.
When I left the Nashville, Tenn. airport that morning, I was expecting a smooth day of traveling, putting me in Charleston around 4 p.m. with plenty of time to make it to the Racers' 7 p.m. tipoff against Auburn.
Little did I know, that's not exactly how the trip would go.
The cheapest flight the newspaper could find to send me to Charleston was with Southwest, and it had me going from Nashville to Baltimore, and then heading from Baltimore to Charleston after a two-hour layover.
I made it to Baltimore without any trouble, other than a fairly severe frisking by an overzealous security guard.
Overpriced airport sandwich in hand, I hunkered down with my headphones and laptop to do some research on the Auburn basketball team during the layover.
It was then when I made eye contact with the nice, older gentleman sitting across from me. He noticed my Murray State T-shirt and we struck up a conversation.
He introduced himself as Sid Easley, and we discussed Murray State's chances against Auburn later that night. After a lengthy discussion, I turned my attention back to my laptop to finish reading up the Racers' opponents.
Before long, it was time to board the plane to Charleston. After two hours of sitting next to a guy with a long mangy ponytail, who didn't exactly smell like a bed of roses, I was more than ready to get to my hotel room. I was hoping for a shower and a short nap before the game.
Unfortunately, the pilot came over the speakers and told us we weren't going to be able to land right away, due to bad fog down on the ground. After 45 minutes of circling around, they announced they were taking us to Jacksonville, Fla., to refuel and wait it out. Much to my dismay, my napping plans flew out the window.
Once in Jacksonville, they let us off the plane and I immediately found Mr. Easely. We sat and talked for a bit longer, both realizing not only were we not going to get a nap, but we were probably going to miss the game as well.
After two hours, the pilot told us the flight was cancelled. I'll be honest, I was a little freaked out. I had no money to rent a hotel and am too young to rent a car. Fortunately for me, Mr. Easley came to the rescue.
After I got my bags off the plane, he came running up to me and told me he had found another couple from Murray who had rented a car and were making the four-hour drive to Charleston that night. A wave of relief came over me. Prior to that, I was making plans to crash on the floor of the airport (or hitchhike).
They all told me it was no problem to have me ride along.
The four of us piled into the SUV and began the trek to Charleston. I sat there wondering what set of life choices had landed me in an SUV with three alumni from Murray somewhere in Georgia.
I was able to find Neal Bradley calling the game on my phone and the four of us hooped and hollered together as the Racers dominated Auburn.
I've been in Murray for a year and a half now, and while I knew it was a pretty friendly town, that night I realized just how amazing this place is.
It's not the buildings, the University or even the nationally known basketball team that makes Murray unique.
It's people like Sid Easley who are exceedingly generous, no matter the circumstance.
I found out later that Mr. Sid Easley is extremely well known in Murray and even has a building named after him (the Sid Easley Alumni Center). Never once did he tell me, 'Oh, by the way, I'm kind of a big deal.' He was just a nice guy who helped me out.
As the four of us were cheering for the Racers from that SUV, I realized this community is truly one-of-a-kind.
The people who call this place home make me so proud to be a Racer.
Column by: Jonathan Ferris, Sports Editor