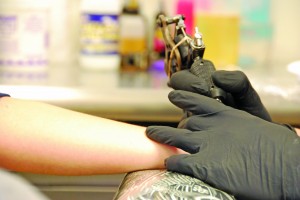 Tattoos, a common form of self-expression among college students, have seen a rise in popularity over the last decade, but have also been removed at an increasing rate.
A study performed by The Patient's Guide – an online publication – states laser tattoo procedures increased 32 percent in the last year. Many patients have claimed future employment as a main reason to remove visible body art.
Tattoo artist Jason Agee, owner of Ain't That Art, said he usually warns students of the consequences of getting a visible tattoo.
"We still see students coming in wanting these tattoos on their neck and hands," Agee said. "We try to talk them out of it and give them our perspective."
Agee calls neck and hand tattoos "job-stoppers" because they are the most visible. Another consequence is they tend to fade faster than tattoos in other locations. Another common tattoo is on the wrist, said Agee.
"Most of the time (employers) won't get too crazy about the lettered wrist tattoos like faith, love, family or something like that," Agee said. "Those can typically be covered up with a watch if necessary."
Blake Walton, junior from Paducah, Ky., said he does not think it matters what a tattoo says.
"I know my employers wouldn't have hired anyone with a visible tattoo," Walton said. "I made sure the tattoos I have weren't visible because I don't think it's professional."
According to a survey conducted by Careerbuilder.com, 31 percent of human resource managers consider tattoos to be the main physical attribute that could limit a candidate's potential.
Agee said he believes the job industry will have to become more lenient because so many younger people have tattoos. Today, one quarter of Americans between the ages of 18 and 50 have some form of body art.
"I don't think employers will have a choice," Agee said. "Especially restaurants and small stores around here, they want to hire college students with or without tattoos."
Katie Mantooth, a counselor for Murray State Career Services, said students should research the culture of the company they are pursuing.
"There are some fields where a more creative display of who you are, such as a tattoo, is acceptable," Mantooth said. "Someone in the music production industry may be able to be more creative than someone trying to reach a prominent accounting firm. Those are more professional, conservative environments."
Mantooth said appearance is important to impress a group of professionals in an interview. She said appropriate physical appearance is important.
According to Mantooth, the job industry has not become lenient on visible tattoos.
She said some businesses and even the military have focused on turning away applicants with visible art in the last few years.
"I would definitely tell students to plan ahead," Mantooth said. "I think that's hard when students are figuring out who they're trying to be in college, but those are the consequences."
Many of the customers getting larger, visible tattoos are professionals set in their career with extra income, said Agee. He said many students consider getting larger tattoos, until they understand the price of the piece.
"It definitely deters a college student when they find out a larger piece could be $100 an hour and take 4-6 hours to complete," Agee said.
Agee as well as Mantooth agreed students should wait to get visible tattoos until they consider their future career choices.
Story by Lexy Gross, Staff writer.