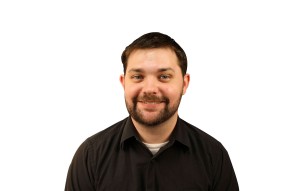 It goes without saying that I love video games.
It was only Monday at midnight that I was waiting in line for the highly anticipated release of Halo 4 – the newest installment of the Halo saga from so many years ago.
Even now, at the ripe old age of 27, I find myself enjoying a night of gaming. Whether it's first-person shooters, role-playing games or even the occasional sandbox game, getting lost in a digital world can
be extremely cathartic, especially if there is an engaging storyline or neat playing style to the game.
One genre of games I will never let go of for as long as I live, however, are sports games.
When I was born, Atari was all the rage. I still remember sitting in my grandmother's living room with the black dial controller in my hand, racing a little Indy car between checkered
racing stripes and seeing gray pavement in front of my car.
By the time I turned 4, the Nintendo Entertainment System, more commonly referred to as the NES, was flying off of the shelves and into family rooms across the world, and my house was no different.
Super Mario Brothers came as a double pack with Duck Hunt and Clay Shooting, both of which count as some of the first sports games to enter my life. I never was lucky enough to have the red Ray Gun like most kids did, but I got pretty good at shooting digital ducks and clays nonetheless.
The NES had several unheralded sports games that really set the tone for the future of sports gaming. Mike Tyson's Punch Out!, Excitebike, Tecmo Bowl, NES Golf … I even think Tetris could be considered a sports game. I played so much NES Golf as a kid that I actually beat the game by earning $1 million dollars in tournament cash. Trust me, it took forever.
By the time Super Nintendo came out, I was ready for big time sports gaming, and no other games molded my childhood better than "Madden 1992" and "NBA Jam: Tournament Edition."
"Madden '92" was just the beginning of my obsession with football games, and more importantly football in general. My brother and I used to play with the Madden All-Stars and play random teams day in and day out.
We always set the difficulty to the highest level for a challenge, but it became apparent when one day we beat the Denver Broncos 180 – 3 that perhaps we had taken things to the next level.
Bored with annihilating opponents, I turned to "NBA Jam: Tournament Edition" looking for a challenge. Boy, did I get one. You had to beat the entire NBA circuit with just one team, so you had to be careful and choose which team was the most adverse.
It became quickly obvious that you had to have strong players who could withstand injury and push people around and steal the ball, so naturally I went with David Robinson, Dennis Rodman and Sean Elliott for the San Antonio Spurs. Robinson and Rodman gave me the power duo I needed to force turnovers and if I got behind, Elliott could torch opponents from beyond the arc.
I was unstoppable. I steamrolled through the league and then started dismantling the super teams that had Will Smith, Hilary and Bill Clinton and other celebrities who have super powers in the game. Chants of "Monster Jam!" and "He's on fire!" still ring in my head from all of the times I played the game.
To this day, I still have a bet out that if anyone can beat me in NBA Jam I'll give them $20. I've had a few close calls, but I haven't lost in 15 years and I don't think I'm about to start now.
With the invention of the Sega Genesis, Playstation and Nintendo 64, my sports gaming started taking a more mature turn. On Genesis I was playing RBI Baseball '94 and rolling with my Seattle Mariners, who of course had Ken Griffey, Jr., as the centerpiece of the offense. With Playstation, it was Madden 2000 and NFL Blitz that kept my interest. Blitz was just absurd because you had to get 30 yards for a first down, and kicking field goals required you to just throw up a prayer and hope you hit the X button just in time to hit the exact middle of the power meter or you were going to miss it.
Madden 2000 gave me the first experience of running a franchise, where I could control all of the aspects of a team and do everything just the way that I wanted. Having the power in the palm of your hand to control the destiny of players and your team was something I had always desired out of a game, and Madden was finally able to provide it.
Score.
The games have come and gone for me, as each new version provides a new roster and a few new gadgets to make the game a little edgier. I fall for it every time, scooping up each new successive title in spectacularly expensive fashion.
Games like Madden have continued to hold my interest for 20 years now, while newer games such as "NBA 2K12" and "NCAA Football 2011" have also waged wars on my pocketbook and schedule.
In "NBA 2K12," I vicariously live through a shooting guard named Jud Barker, a slice-and-dice jump shooter who has now made the starting lineup for the New York Knicks and is leading all rookies in scoring, averaging 19 points a contest. With NCAA Football 2011, I transferred the Western Michigan Broncos to the Big 12 and won back to back National Championships.
It's a crying shame; I'm not even close to being this successful in real life.
Maybe it's time to put the controller down, but only after I finish this game.
Column by Edward Marlowe, Staff writer.