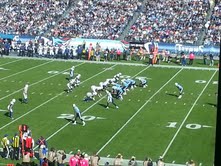 As a budding sports journalist, walking into a professional NFL locker room after a win is still imposing and nerve-wracking. Cameras and journalists are swarming half-naked players rushing out of the showers, and the questions are flying like machine-gun bullets, barraging the players who just got off the bright lights on the field and are now in the bright lights of the camera.
After a loss, however, you can multiply the intensity of the locker room to the nth degree, and this is the experience I encountered this past Sunday during the gut-wrenching OT loss the Titans faced at the hands of the Colts, 19-13.
Titans free safety Michael Griffin was a great example of the attitude latent in the locker room. Still dressed in full pads and sullen in his look, I approached Griffin with extreme caution. He had just posted one of the greatest stat-lines of his career, intercepting Colts quarterback Andrew Luck on a miscommunication to receiver Reggie Wayne in the end zone and blocking Adam "Captain Clutch" Vinatieri's 30-yard field goal attempt just before the half. Griffin also had two forced fumbles nullified by a silly penalty and an official's whistle to blow the play dead, which completely changed the complexion of the game and could've given the Titans great field position both times.
"Michael Griffin, I was wondering if I could talk to you about the game today," I asked him nervously. "Would you mind?"
Dejected, Griffin didn't even look up from his locker and declined to interview with me. It wasn't a rude response. Instead, I gathered he didn't feel like he deserved to be interviewed after such a tough loss.
Still, as a Titans fan, I told him what I thought about his day.
"For what it's worth, you played a great game today," I told him, to which he responded "Thanks, man."
That's all I needed to hear.
I continued to wander around the locker room in amazement, as reporters were locked in with several of the players, most of which had reproachable faces. I stopped to talk with tight end Jared Cook, but he politely declined and said he had to go. Running back Chris Johnson, who was scheduled for the press conference afterwards, also politely declined, which made complete sense because I probably would've asked him the same questions he would be asked in the presser.
No one likes to answer the same question twice.
I began to realize I need to be more aggressive in the locker room, but a feeling of common decency and respect for player emotions came over me. Still, I told myself, I have a job to do, and if I want to do it, I'll need to be more aggressive. Hopefully this is a lesson learned.
Here are some other lessons I learned through the day:
On the Experience:
Every time the National Anthem plays at L.P. Field, the stadium is silent. For two minutes, no one is yelling or screaming and being angry or hates the fans next to them. They are reverent and appreciative, and there is a peace that is indescribable and incredibly touching every single time.
Nashville certainly loves its football, as the stadium was very loud and full of fans from both teams. It was a perfect day for it, as the crisp, fall air breezed through the stadium and the clouds parted for a full sun-shining day.
I parked significantly closer to the stadium this time and for a little cheaper, too, which was good because I gave a hungry couple $5 on the way to the game. Poverty is a very real thing, and I felt like it was important to try and bless someone with some of the same luck I have experienced. I know $5 isn't much, but hopefully it made their day and got them what they needed to have some sort of enjoyment, if just for a brief moment.
I just love Nashville.
On the Titans:
This was the third straight game in which CJ2K had 100 yards from scrimmage. Suddenly, this Titans backfield is starting to look more consistent, and it couldn't be happening at a better time.
The Titans have the ability to make the big play happen, but often miss because of penalties or miscues on execution. Twice Kenny Britt was flagged for offensive pass interference, one of which was on a huge over-the-shoulder 41-yard catch down the sideline. The Titans shot themselves in the foot numerous times and had a chance to blow the game wide open, but could never take advantage.
Jared Cook is open. A lot. His 29-yard catch was the longest offensive play of the game for either team, and now he's requesting a trade after not seeing many touches in the attack. I sincerely doubt the Titans grant him his wish.
The last three plays in regulation for the Titans were miserable. Incomplete pass (short), incomplete pass (deep-middle) and incomplete pass (short). The Titans had all three timeouts, good field position and were kicking with the wind. Get the first down and give Bironas a chance to win it.
On the Colts:
I'm not sure why teams aren't game-planning for Luck's scrambling ability. The Titans failed to play contain on the elusive quarterback and got burned by it, despite sacking him five times on the day. Luck posted a 4.6 40-yard dash at the NFL Combine this year, just one-tenth of a second longer than Carolina quarterback Cam Newton. Luck can seriously move, and he has the arm strength to make precise throws on the run. Just ask Reggie Wayne.
Luck-to-Fleener, though not as developed, could be just as a prolific tandem as Manning-to-Clark was for so many years in Indianapolis. The Stanford Connection hooked up on several nice sideline routes, and you can tell Luck is starting to trust his college buddy a little more in the Colts offense.
Reggie Wayne is one of the most consistent wide receivers to ever play the game. His 20-yard catch on third-and-long in OT essentially won the game for the Colts, who were facing a long field goal in the wind before Wayne got open in soft-zone coverage.
The Vick Ballard 16-yard screen to win the game was one of the most incredible dives in to the end zone.
Column by Edward Marlowe, Staff writer