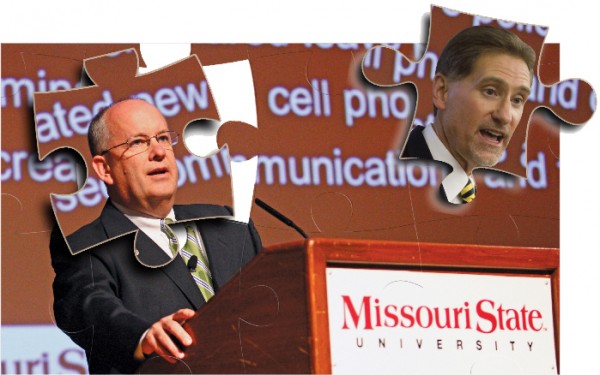 President Randy Dunn withdrew his candidacy for president at Missouri State University Monday. In a media statement he released that afternoon, Dunn said he made his decision with his wife Ronda after last weekend's Homecoming activities, where he was met with what he called "ongoing statements of support and encouragement" from alumni, donors, friends and community members.
Dunn's move came only hours before a Missouri State Board of Governors meeting Monday evening in which the nine-member board was expected to deliberate over Dunn and Clifton Smart III.
Smart, the interim Missouri State president and second finalist for the university's 11th president spot, was instead immediately instated Tuesday morning.
Smart was a strong internal candidate from the start – something Dunn alluded to in Monday's release. He had been serving as Missouri State's interim president for more than a year after the university's 10th president, James Cofer Sr., stepped down to return to the faculty in 2011.
Dunn said he had looked forward to taking on the challenges of heightening the Missouri State profile to an expanded audience, but the overwhelming support he and his wife received at Homecoming, coupled with a perceived lack of support in Missouri, led him to the decision to step out of the running. He mentioned statements, reports and editorial commentary that gave him the impression that the Springfield community favored Smart.
Indeed, in a letter from the editor, the Springfield News-Leader expressed concern in Dunn's long-term goals and said the staff was happy with Smart's guidance that had led the school forward during his interim period. Smart had worked hard at "inspiring confidence" in the school and community, something the area could not afford to lose.
Dunn was selected as a finalist at Missouri State in late September, as one of a total of 38 applicants an internal 20-member search committee reviewed. He made the cut with Smart and visited campus for an interview with the Board of Governors, a tour of campus and a public forum early last week.
At the forum, Dunn told attendees in the Missouri State student center that he considered the position a "capstone presidency" for his career. He drew several comparisons between Missouri State and Murray State, and said he would broaden the university's campaigning efforts, as he feared Missouri State was largely unknown in area metropolitan cities like Kansas City and St. Louis.
Smart's rival presentation two days later took a simpler approach. Smart said he would help make Missouri State not just a good institution but a great one. He jabbed at Dunn's "capstone presidency" comments, saying Missouri State was the only place he he would even consider serving as president.
Jim Anderson, president of the Springfield Area Chamber of Commerce and vice-chair of the Missouri State presidential search committee, was crucial in making sure Dunn was one of the two finalists. Originally, the committee had sought three to four finalists, but, he said, Smart and Dunn stuck out as being a "step above the rest."
But the 38 applications they received for the position made for a small drawing of candidates in the first place, especially when compared to the 88 applications received in 2010, 59 in 2005 and 76 in 1979.
Anderson said he thinks the lower number of applicants represented a lacking interest in the position, mainly because of Smart's sitting advantage at the institution.
"It's just speculation," he said, "but any person who was serious about this job probably did their homework and determined there was a strong internal candidate."
Dunn spoke more candidly about his decision to step out of the race later Monday evening via email. Both he and Ronda had been touched by the local encouragement and support at Murray State's Homecoming, he said. Concerns about the willingness of the Springfield community to make bold moves toward improvement had also been a concern of his.
"I would say our visit last week and talking to many people over there – in addition to following the continuing coverage of the story from Springfield, editorial commentary, and other information sent back this way from those who were supportive of us at MoSU – suggested a level of difficulty in going in to that institution and being successful with the full backing of their board and community," he said. "In the end … we weren't fully sold on the whole deal, I think it's fair to say."
Dunn's future at Murray?State
After Monday's announcement, Dunn said the fact that the Board of Regents has still not extended his Murray State contract, which ends June 30, 2014. It is typical of the board to give the OK to a president a year before his or her contract ends, allowing for the individual to seek another position should board members fail on a concise vote of confidence. Dunn's year mark is ebbing ever closer with still no word on his fate. In fact, the board completed a mandatory comprehensive evaluation of his progress last year. Although Board Chair Constantine Curris shared the confidential results with Dunn, the board took no action on his future employment.
Typically, comprehensive evaluations provide the board a vital key in deciding whether to extend a contract, said Jeremiah Johnson, student regent and president of the Student Government Association.
"Following my 360-degree comprehensive evaluation that the board conducted over a seven-month period during the 2011-12 term, I have expressed a desire to have the board entertain discussions for a contract extension," Dunn said. "The board has decided to wait until sometime later in that regard, so until the situation clarifies, I feel I need to at least keep myself open to other promising opportunities that may present themselves."
But according to Curris, the comprehensive evaluation Dunn underwent is not meant to act as a tool for contract renewal. Rather, it simply gauges the president's ability to act as chief executive officer and suggests areas of improvement. Curris, who serves as a higher education consultant outside of his board responsibilities, said it is likely the board will consider the president's response to the evaluation in determining whether to extend his contract.
"What was reported in the evaluation as a general rule across the country and at Murray State is secondary to how the president addresses concerns that were identified," he said.
Curris expected discussion of Dunn's contract not to come up at board meetings until later in the spring semester – closer to a year from its expiration.
This is not the first time Dunn has been a finalist in a presidential search since he took the Murray State position in 2006. In 2010, he was named a finalist for the top job at the University of Tennessee at Knoxville after two rounds of cuts.
Both Curris and Dunn have said it is not unusual for a president to seek positions elsewhere. When Dunn was named in the Missouri State race, he said he only wished to better his career opportunities, and still, the president holds that he will perform his duties as Murray State's president until he no longer holds the position.
Curris himself, who has served as president at three universities, resigned from his posts to take advantage of better opportunities. Curris said the only time a presidential move like that becomes a problem is when the president in question fails to be candid with the board.
He declined to comment as to whether Dunn has been open to the University Board of Regents. As it is a matter of the presidential evaluation, he said, the information is not public.
Story by Austin Ramsey, Editor-in-Chief.