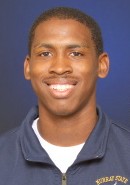 Zay Jackson waived his rights Wednesday morning to have a preliminary hearing and to appear in front of a grand jury.
The sophomore guard was scheduled to appear in Calloway County District Court at 9:30 a.m. Wednesday, weeks after an altercation in which he was involved that resulted in two assault charges.
Jackson's case will now bypass the district court and he will appear in the Calloway County Circuit Court for his arraignment hearing on Oct. 12.
Prosecuting Commonwealth Attorney Mark Blankenship said he hopes to start negotiating a plea bargain to resolve the case, but he also wishes to see Jackson show remorse for his actions.
Jackson was arrested Sept. 9 on two counts of second-degree assault after allegedly striking two people with his vehicle in the parking lot outside of the Murray Walmart.
The victims, Jason and Alia Clement from Paducah, Ky., claim Jackson struck both of them with his 2004 Chevrolet Monte Carlo after a verbal altercation. The Clements said Jackson caused a shopping cart to collide with another vehicle, and when Jason Clement approached Jackson about it, the situation allegedly escalated.
Jackson, a guard on the Racer men's basketball team from Hammond, La., has not made a statement on the incident. Jackson's attorney, Gary Haverstock, and the Murray State Athletic Department were contacted and chose not to respond at this time in regard to the case.
Blankenship said he would like to see Jackson serve time in jail, enroll in anger management classes for his temper, pay restitution for medical bills and apologize for his actions.
The victims were both reported to have minor injuries. However, Jason Clement will undergo X-rays and an MRI on his shoulder, stemming from injuries he suffered after falling from Jackson's car.
Jackson is still suspended from all basketball team activities, and there is no word on whether he will play in the opening game on Nov. 9 against Brescia.
He was expected to start for the Racers this season, but the team and athletics have been silent as to if that is still a reality.