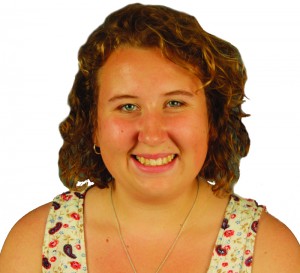 I'm pretty upset about the National Hockey League lockout. With every passing day with no agreements being made and more and more players going overseas, my heart drops. Preseason games have already been canceled and at the rate things are going, it looks like we might be missing actual games. I only hope that we don't miss out on an entire season as many fans did in the 2004-05 season.
So instead of downing a pint of ice cream and focusing on the sad reality of the upcoming hockey season, I am going to take you back to one of my happiest moments in hockey – other than the time my favorite team won the Stanley Cup – when my dad took me to my first Chicago Blackhawks game.
I didn't go to my first hockey game until I was a sophomore in college. And I will admit I didn't even start watching until my junior year of high school. I was a bandwagon fan. I never even thought of hockey until some of my friends at school started talking about how good the Hawks were playing. As I was a huge fan of Chicago sports teams, I thought I should probably watch a game to see what all the hype was about.
So my dad and I sat down to watch a game, and the rest was history. The game was so intense. I did not have a clue what was happening most of the time, but I didn't care. In that moment I became obsessed with the Blackhawks, partially due to one of the Hawks players. Left wing Patrick Kane. I am pretty much in love with him; I just thought I would throw that out there. But in all seriousness, this sport was unlike any other I had ever watched. It was fast-paced, exciting and you didn't have to watch players stand around for half the game.
I attended my first Blackhawks game in 2011. I had been begging my dad to find some tickets for months. I think I finally annoyed him enough so that he bought us tickets just to shut me up. They were playing the Nashville Predators. I remember being so excited to see my favorite players, especially Kane, in real life.
I had been to the United Center before for numerous Chicago Bulls games, however the atmosphere was completely diferent this time. I have always heard that the fans go crazy at the hockey games, but I was not prepared for how intense the Chicago fans were. From the minute I stepped into the arena there was cheering, and this was at least an hour before the game. When the players finally took to the ice, the sound was deafening.
My favorite part of the whole experience was the National Anthem. At Hawks games the crowd stands up and cheers throughout the entire song and it is only sung by Jim Cornelison. I seriously had goose bumps during the anthem. Hockey may be a sport associated with Canada, but Chicago has deemed it as theirs.
The game finally started and it was crazy. I thought watching the game on TV was entertaining, but seeing it played live is a whole other experience. The crowd almost never sat down or let up. When the Blackhawks scored their first goal, and every other goal after that, the arena went insane. Simply put, it was awesome. I don't think I will ever get sick of the song played when the team scores. It is one of the most annoying tunes I have ever heard, but when the Hawks score, you don't care. The team ended up beating the Preds six to three, making the night all the better.
Sadly, I have yet to go to another game since my first one, but I know the atmosphere will still be the same. Something like that does not change. It's part of the Blackhawks organization.
It may have taken a trip on the band wagon to make me a hockey fan, which to most is not something to be proud of, but I am glad I took that ride. If I had not, I would not have been able to cheer along with all the other crazy Chicago fans.
Jaci Kohn, Assistant Sports Editor