As the final seconds ticked off the clock in Tallahassee last Saturday, the scoreboard read Florida State 69 – Murray State 3.
A shellacking. Disparaging. Taken to the woodshed.
Head Coach Chris Hatcher and his star quarterback, senior quarterback Casey Brockman, however, took nothing but positives away from the entire experience, and possibly for good reason.
"I thought we traveled well; I thought we competed and I thought we played extremely hard, especially in the first half," Hatcher said. "I'm real proud of the guys' efforts, but for the most part, we came out healthy, which is always a concern when you play a team of Florida State's caliber."
For Brockman, the biggest takeaway from the game was not only the learning experience but also the boost of morale in being able to run the offense effectively against one of the top defenses in the nation.
"I think our confidence, we didn't score a touchdown, but relatively speaking we moved on offense," Brockman said. "We got it into the red zone a couple of times and had good field position and made a few things happen. But when we got down there, they were just so much bigger and more athletic and the holes aren't quite as big to run through and the passing lanes aren't as big."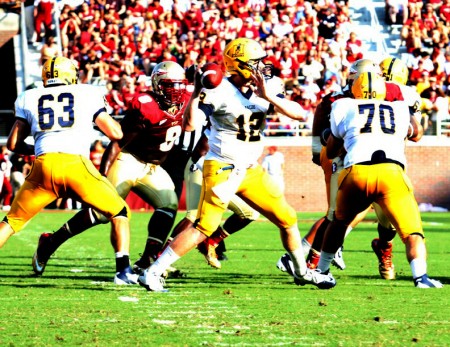 The score might indicate a helpless Murray State team caught up in the bright crowds and huge crowd, but a closer examination reveals an entirely different story.
A 47-yard punt-return touchdown by Rashad Greene, on their first touch of the game, gave the Seminoles a 7-0 lead just 90 seconds into the contest. Backed into their own end zone, the Racers had little choice but to make sure the punt was not blocked.
"I thought our special teams played really well," Hatcher said. "We gave up the touchdown on the opening punt and a little bit of that is just where we were kicking from. When you're backed up, the main thing is to get it off and they were very physical. They had us outmanned on special teams and when you use a tight formation, you have to hold that block, whereas in the open field you run through your gap as you get into coverage."
Against a challenging opponent, the defense shined in Tallahassee, flying to the ball and even forcing a turnover. An interception by junior transfer and backup defensive back Josh Manning ended EJ Manuel's streak of 128 completions without an interception, while senior defensive backs Brandon Wicks and Julian Whitehead played strong outside coverage by deflecting passes on key third downs.
Despite constant pressure from Florida State's front seven, Brockman was able to find a few open receivers in the first half, finishing the game 19-36 for 117 yards and one interception before exiting the game midway through the third quarter. Senior wide receiver Walter Powell led the team with nine receptions for 62 yards.
After taking six sacks, four from junior defensive end Bjoern Werner, Brockman was just happy to make it back to the sideline relatively unscathed. With the game well out of reach, he and other starters were pulled midway through the third quarter in favor of stringers.
"I was a little hurt and I was a little beat up," Brockman said. "I couldn't imagine what I would've felt like if I had actually played all four quarters."
The Racers don't have much time to recover, as Saturday's home opener is against the FCS No. 20 Central Arkansas Bears, providing the Racers with a very tough test at home and the possibility of starting the season 0-2.
The Racers lost a close one to the Bears in their last meeting in 2010 by a score of 21-20, but Hatcher said both Central Arkansas and the Racers have made marked improvements in the past two years and he expects a completely different game this time around.
"They're a really solid football team," Hatcher said. "They're very well coached and they've got history down there now as they made the FCS playoffs last season and beat Tennessee Tech, our champion in 2011, and beat them soundly. They were beating Ole Miss this season going into the fourth quarter, and a couple fluke things happened and the game got out of hand."
This will be the eighth time Hatcher has matched wits with Central Arkansas, as he faced them several times as a coach at Valdosta State.
After playing a base defense for several years, Hatcher said he and his assistants will have to prepare for the blitz, which Central Arkansas employed against Ole Miss in their season opener.
"They blitzed a lot more against Ole Miss than I've ever seen them blitz before," Hatcher said. "Now you've got to prepare for that as well. Were they doing it because they thought it gave them a chance against Ole Miss? Which way will they go? They've added a new element that they haven't shown much in the past."
Known for generating 85-90 plays in a no-huddle attack offense, the Hatch Attack was not on display for most of the Florida State matchup as the Racers just tried to slow the game down as much as possible and soak up experience for the roster.
Hatcher and Brockman both agreed the high-flying offense would be in full swing come this Saturday.
"I hope I pass the ball 50 times and I hope we run the ball 30 times," Brockman said. "That is our tempo and our style of play."
Kickoff is 6 p.m. Saturday at Roy Stewart Stadium.
Story by Edward Marlowe, Staff Writer.