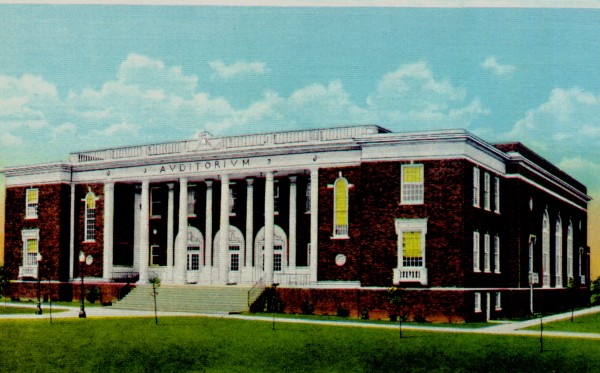 The Past
It was around this time 90 years ago the city of Murray was being considered for the site of a new Normal School, or a school for the training of teachers. Through the guidance of Rainey T. Wells and the help of the county's fundraising, what is now known as Murray State University was created.
On March 8, 1922, Governor Edwin Morrow signed Senate Bill 14 to establish two Normal Schools in the state of Kentucky. One school was set to be in the western side of the state and another in the eastern side. There were ten cities throughout the Jackson Purchase that were competing for the western Normal School: Benton, Paducah, Murray, Mayfield, Clinton, Henderson, Hopkinsville, Morganfield, Owensboro and Princeton.
The people of Calloway County, with the direction of Wells, launched a campaign to raise at least $100,000 to make a bid for the school. By the end of March, the money had been raised from more than 1,100 contributions.
At a formal presentation between the 10 interested cities, Wells spoke in behalf of Murray. After his presentation, he laid down two checks, each for $50,000.
"It's not what the people of Murray have promised to do but what they have already done that counts," he said affirmatively.
It was discovered after the presentation that an additional $16,000 would need to be raised for the bid, so the people of Calloway County and Murray joined together once more and raised the funds for the new school.
On Friday, Sept. 1, 1922, Murray was officially chosen as the home for the Western State Normal School and Morehead for the Eastern State Normal School. Western State Normal School was later named Murray State Normal School and officially opened Sept. 24, 1923. The school consisted of four rooms and an auditorium and was located on the first floor of the brand new Murray High School, which is Murray Middle School today. By the end of its opening day, 87 students were enrolled and six classes were filled.
The Present
Since then, 90 years have passed and that normal school underwent a name change or two. With more than 10,600 students and 120 degree programs, according to the 2011-12 Murray State Fact Book, the University is currently comprised of 74 major buildings and two libraries.
Both Murray State and the city of Murray were recently awarded national honors for the accomplishments and work put into the college and city throughout the years. The Chronicle of Higher Education named Murray State a "Great College to Work For," USA Today Travel named the city of Murray as the "Friendliest Small Town in America," and Forbes considered Murray State in the "Top 100 Best Buy Colleges." Forbes also listed Murray State as one of "America's Top Colleges."
Along with its national recognitions, Murray State and its students have many annual traditions that make it unique from any other University. Some of these traditions include the shoe tree, Great Beginnings, Tent City, Campus Lights, All Campus Sing, midnight breakfast, homecoming and Racer 1's celebratory lap around the football field during games. Murray State was also one of the first colleges to have a residential college system, making its students closer than those at other Universities.
This September marks the anniversary for Murray State. In celebration of the special occurrence, Town and Gown is hosting an event at 6 p.m. on Sept. 6 in the Quad, weather permitting.
"We're going to celebrate pretty much the first decade of the campus," Mark Welch, director of community relations and public information, said. "What I wanted to do was to talk about the original campus. The original campus was just right around the quad."
During this event, faculty members will help educate students about some of Murray State's oldest history and even some familiar historic figures.
"We'll do short presentations about the history of Wrather, Wilson, Wells, Lovett and Pogue," Wells said. "We'll talk about Oakhurst, which existed prior to the campus getting constructed. It was constructed in 1917 and 1918. It was Rainey (Wells)'s home."
To go along with this event, students, faculty members, alumni and Racer fans in general can submit their favorite memories, photos and stories to Murray State's 90th Anniversary website, murraystate.edu/90th.
Tony Powell, Murray State's web manager, created the web pages as another way to honor the special year. The website will remain online throughout the entire school year.
"It's the same kind of idea as the 'Where Do You Blue and Gold blog'," Powell said, "except we want people to send in their Murray State pictures, and stories and things and I'll post them on this website for a year."
To submit entries, interested students can do so through the website, murraystate.edu/90th.
"There aren't any specific things I'm looking for, just Murray State-related (content)," Powell said. "Whether it's ballgames or trips or supper one night or whatever, the more personal (the content), the better."
The Future
What can be expected to come for Murray State in the next 20, 40, or even just 10 years to come? Maybe a new library and more renovated dormitories will be on campus. Perhaps 12,000-plus students will be enrolled at one time. Maybe Racer basketball and other University sports teams will make several more NCAA memories. Whatever there is to come in its future, Murray State will always have its unique history and a special campus to add to it.
Story by Anna Taylor, Features Editor.