Jacksonville State and Austin Peay were expected to be near the top, but Murray State was a big surpriuse at last week's OVC Tournament.
Indeed, it was, and what a surprise they were in the OVC Golf Championship.
Led by the outstanding play of junior Patrick Newcomb and a retooled lineup behind him, the Racers mounted a spirited comeback from 11 shots down to take home third place in the OVC Championship held April 26-28 at Greystone Golf Club in Dickson, Tenn.
Picked to finish eighth in the tournament by OVC coaches, the Racers pushed everything aside and brought a clean slate to the tournament, determined to not have the season written off as a failure.
Head Coach Eddie Hunt said he had been struggling with his lineup leading up to the final weeks of the season.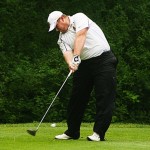 "Going into this tournament, we've had an up and down year," Hunt said. "We've had some good finishes and some bad finishes. Two weeks before the OVC, we felt like we had the right lineup. We won that tournament by 20 strokes."
After opening with a disappointing 75, Newcomb closed out round two with a 71 and a final round 67 and an individual third place finish. Newcomb was selected as OVC Player of the Year for the 2012 season during the awards ceremony after the tournament.
Following Cameron Carrico, 2011 Racer senior, and older brother Nick Newcomb (2010), this marks the third consecutive year in which a Racer has received the honor.
Newcomb led the league in scoring average (72.4) and finished the season with three wins and seven top-five finishes.
Hunt lauded Newcomb's efforts after what he said was an incredible season for Racer golf.
"I'm very proud of Patrick," Hunt said. "He is very deserving of the award after the type of season that he had."
Newcomb said he credits the work on his game last summer as the main reason he played so well this year.
"I worked hard on big changes on my game," he said. "I really came around and I'm growing on top of that. I've felt good about my game since last summer, and the work that I put in has really ended up paying off. "
If it wasn't for the camaraderie with teammates, especially senior William Hunt, Newcomb said things might not have been so easy for him this year.
"Will took me under his wing and really helped me with my game," he said. "This is one of the greatest group of guys I've ever played golf with, and that definitely makes it easier to play."
Hunt, playing the best golf of his Racer career, remained steady by shooting 72-71-73=216 and finishing in ninth.
The last of the starting five was junior Hunter York, who finished with a 73-73-71=217, while junior Tyler Brown shot a 73-76-74=223 and junior Dustin Gosser closed with a 76-73-77=226.
At one point the Racers (866) held the lead, making the turn to the final back nine just one shot over the field. However, Austin Peay (862) and Jacksonville State (861) surged by on the final holes of the tournament with Jacksonville won on the last hole in regulation.
"We had some breaks against us," Hunt said. "We had every opportunity to win it and just came up short. I don't think people expected us to compete."
Hunt said the year was a strong rebuilding year and expects the team to be very competitive next year, especially with a strong freshman class and the developing game of junior Hunter York.
"Hunter had a really good OVC tournament," he said. "His last round was his best of the tournament. He has the potential for All-OVC next year."
One of the biggest contributions of the tournament, Hunt said, was William Hunt's play.
In his final tournament and and first OVC Championship, Hunt maintained composure and broke even, setting the pace fot the Racers.
"We're not even in this tournament if it wasn't for William's play," Hunt said. "He really stepped up in his last shot at the OVC."
Patrick Newcomb led the charge on the last day, playing aggressive golf and chasing the leader on every hole.
"I wanted to get out to a hot start," Newcomb said. "My goal was to catch the leader by the back nine and put myself and the team in contention."
One question kept burning in his mind during the tournament,"If you're not trying to win the golf tournament," Newcomb would ask, "what are you doing out there?"