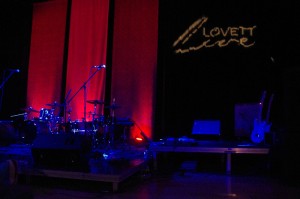 Two of the busiest, exciting places on campus are the CFSB Center and Lovett Auditorium.
While the CFSB Center is now student employed, nonprofit organizations used to work in the concession stands and other positions during events such as concerts and basketball games, like students do today.
Working at the CFSB Center not only entails working in the concessions stands although that is a large part of the job. It also involves helping set up the stage when there are concerts.
"One of my favorite events (to work) was the Lady Antebellum concert," said Jesse McCallon, sophomore from Murray. "I liked putting the stage together and seeing how to put a show together."
McCallon is a concession stand manager at the CFSB Center and has worked there four semesters. He said there is not an opportunity to sit down and watch the events but that it is still easy to see a lot of the event from where he is working.
There are a few different aspects of the job such as going to get food to sell to customers, or managing concession stands and setting up the stage for each event.
The students get the experience of seeing how a concert is set up from behind the scenes.
Although it is work, the students get to see bits and pieces of the events as they go to and from different areas.
"The benefits are about the same as the difficulties, working with people. It depends on the clientele," McCallon said.
By opening up jobs to student workers instead of nonprofit organizations, the CFSB Center no longer pays 15 percent of the profits it made and instead puts more money in the students pockets.
This gives students an opportunity for job experience while still getting to see the events that happen on campus.
Lovett Auditorium is another home to big campus events. The same students who work at the CFSB Center are also guaranteed work at Lovett Auditorium when needed.
Student workers at Lovett have jobs such as driving performing artists around, loading up and breaking down stages, ticket taking and ushering.
"You're never doing the same thing day in and day out," said Spencer Preston, senior from Louisville, Ky. "It's a good group of people to work with."
There are plenty other advantages that come with working at either venue.
"One of the perks of the job is that when you work in the show, you get to see it and kind of get front row seats," Preston said.
Any student can work at either Lovett Auditorium or the CFSB Center which both offer a lot of job opportunities and experiences.
Students drive the artists around and go on errands when necessary.
"It's just normal people (the artists); the bus drivers actually have more interesting stories than the artists themselves." Preston said. "The artists are usually just really tired."
To get a job working at either venue all you need to do is apply.
Applying for the job requires "a smiling face and a good personality" said Matt Parker, graduate student from Memphis, Tenn., and the house manager at Lovett Auditorium. "Anytime the student is free and can watch the show we certainly don't keep them from it."