Jaci Kohn
Staff writer
The basketball team was not the only group at Murray to have an exceptional season. The University Bookstore designed 17 new shirts to help students show their school spirit.
Racer fans show their spirit with blue and gold as the main colors worn on campus during sports seasons.
While stores such as Walmart and Zax sell unique designs like Mr. Ed and "Welcome to the Prohmised Land," the place to find the most variety is the campus bookstore.
Karol Hardison, University Bookstore director, said shirt designs have stayed pretty traditional although the shirts themselves have changed some.
Pete Choukalas, senior from Memphis, Tenn., said the irony and humor of shirts attracts him to buy certain designs.
"There are some catchy shirts like the Party Rock Anthem shirt, that was legit, and the Mr. Ed shirt, those are awesome," he said.
The store's No. 1 bestseller is what they call "the spirit shirt."
"It is a group of four and they come in navy, gold, white and oxford grey," she said. "It's just a real simple design: an arched Murray State. Almost every student has that shirt. It goes back and forth every year, one year navy will be more popular and one year it's gold, (but) it is always either navy or gold."
A lot of work goes into designing the shirts. Typically different vendors such as Nike, Russell and Under Armour show the bookstore their product lines, bringing in samples the artists have drawn up.
"Then we have to take those designs and, for example, if their sample said Vanderbilt, we would take certain aspects of their design and turn it into to a Murray State design," Hardison said. "A lot of times we will have to work with the artist if the names are different or if our logo doesn't look just right."
With the year the basketball team had, the bookstore tried to commemorate each moment for the team. With shirts such as 2K12, 20-0, Refuse to Lose, Dickie V. In Our House, Flush the Peay and Bracket Busted, fans were able to experience the record setting year with the team with a matching wardrobe.
The store has a new design in honor of the basketball team.
"We had so many designs during the season because they had such a great season," Hardison said. "We wanted to end that season with a special shirt. The main thing it is kind of honoring the coach, because of what he told his team. He always used eyes up."
There were so many unique designs this year that even the bookstore director had a hard time choosing her favorite.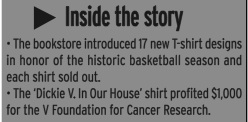 "I've bought so many," Hardison said. "One of my favorites is the white one that said 'All we do is win,' the one that was Racer Nation and another was "Dickie V In Our House, Awesome Baby."
The Dickie V. T-shirt was significant because all profits went to the V Foundation for Cancer Research in memory of Vitale's friend Jim Valvano, former coach of North Carolina State University. The shirts profited $1,000, all donated to the foundation.
There were 17 basketball designs this year and each shirt sold out, bringing the community, alumni and Racer friends from all around the nation together.