Ed Marlowe
Staff writer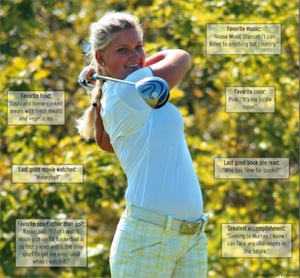 It is always interesting how international students find little old Murray State University on the map.
Coming all the way from Nykoping (pronounced knee-shop-ping), Sweden, Alexandra Lennartsson said it really didn't take long to determine Murray State would be her home away from home.
"I hired a recruiting company in Sweden which helped me look at schools in America," Lennartsson said. "They looked at where my golf game was at that point and schools for me where it was possible to land a good scholarship."
After Lennartsson's stellar high school career, Head Coach Velvet Milkman had little choice but to offer her a full scholarship into the women's golf program.
"Velvet started to email me," Lennartsson said. "You can't say no to that."
Outside of the usual hitches with changing countries such as language, diet and difference in cultural practices, Lennartsson said the transition from Scandinavia to western Kentucky has been almost seamless.
"I remember the first time I dreamed in English," she said. "It was really weird."
Helping her with the transition has been the closeness of the women's golf team. With the team traveling together and virtually living together both at home and on the road, Lennartsson said the team chemistry and camaraderie is wonderful.
"It doesn't matter where you are in the world, you can still find really good people to hang out with and become great friends with people who are from another country," she said. "It really doesn't matter where you are from; you're still going to end up being close friends."
While public perception of golf tends to be critical of the physicality of the sport, Lennartsson said people would be surprised with the team's workout regimen and offseason schedule.
During the offseason, women golfers lift weights three times a week and do cardio work including sprints and hill workouts. Carrying a 30-pound golf bag and walking a course in extreme hot and cold temperatures, she said, requires a high level of fitness obtained through structured workouts.
"We put in a lot of effort, more than people think we do," she said. "People say 'Oh, it must be so hard, you get to ride in carts all the time!' That's not what it's like."
Lennartsson said one of the biggest shocks of coming to Murray is the general hospitality and overall friendliness of the area, especially strangers.
"People are so nice here," she said. "You talk to people when you are in line at Walmart. In the beginning, I was like 'what do you respond to that?'"
Now when she goes back home, she said people wonder why she is so friendly and talkative to others.
"It's not like we're rude in Sweden," she said. "We just don't really talk to strangers."
At least here at Murray State, she doesn't have to worry about being a stranger anymore.