Sophie McDonald
Sports Editor
A lot has changed for freshman guard Zay Jackson since the beginning of the season.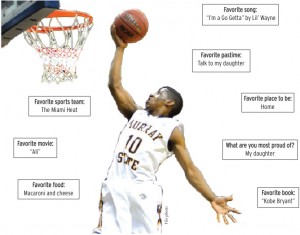 "I really like everybody on the team," the Hammond, La., native said. "At the beginning of the season I would never have told you this, but now we're all closer and it's great to be a part of a winning team (when) you like everybody."
Jackson, a 19-year-old engineering major, was named the Ohio Valley Conference Freshman of the Week when he scored 10 points against Jacksonville State with six rebounds and came back in the win over Tennessee Tech with nine points and five rebounds the week of Jan. 16.
"He's really matured from Toronto until now," Head Coach Steve Prohm said. "He's a fireball. What you see is what you get."
Prohm, who attended the same church as the freshman guard when he was working under Billy Kennedy at Southeastern Louisiana University, recruited Jackson during Kennedy's time as head coach.
"He's not scared of anybody," Prohm said. "He wants to guard the opponent's best player, he wants to take big shots, he's got a great deal of swagger, a great deal of confidence, but the thing people sometimes don't understand is that he really understands the game – he's got a really good IQ for the game. He'll come up and tell me things on the bench and he's got a good feel so you listen. He's had a huge impact on this team."
Coming from a family with roots deep in the basketball court, Jackson's athletic skills are often attributed to the paternal side of his family including his dad and his Major League Baseball playing grandfather, but his mom and half-brothers also played basketball.
"I don't really know, I just wanted to play and I always played when I was little," said the 175-pound, 6-foot guard. "I used to be kind of terrible and fat but I always played. I just loved the game I guess."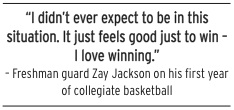 Jackson, a decorated track and field athlete in high school, won the Louisiana Class 2A triple jump state championship three times and the high jump once, clearing 6-feet 8-inches. Despite his athletic accomplishments, he hasn't always had the best temperament, but through encouragement from current and former coaches, Jackson is maturing more and more.
"My attitude is getting better but it wasn't always in the right spot," Jackson said. "My high school basketball coach was like my father figure. He was on me about every little thing, like my attitude. We would be in his office for two hours at a time after practice talking about this, about that, about school, my attitude, every little thing."
Through his work ethic and respect for the seniors, Jackson has earned trust from the older players while building relationships that have turned more toward the familial than merely friendship throughout the season.
"I call him little Zay bay-bay," senior forward Ivan Aska said with a grin. "That kid came a long way just by knowing his role on the team – he competes and I love that. He's like a little brother to me."
That relationship has propelled Jackson to gain lots of encouragement and support from the seniors.
"He's new so he didn't really know anybody and he's been on his own so he thought everyone was his enemy, but we're here for him and we have his back," Aska said. "He's gotten better as a person and as a player. He was so used to not being here and coming off the bench but he's a good player. Sometimes he makes mistakes, but everybody makes mistakes. He gets mad at himself but you can't do that because sometimes that takes out your game."
Not only does Jackson balance the stress of being a Division I student-athlete, he is also a father of 2-year-old Zoey.
"It's pretty hard (balancing everything) especially being far away," Jackson said. "I've got to have time with her on the phone, I've got to find time everyday to Skype with her. I've got to do my homework; I've got to go to practice, treatment – everyday. It's hard but I get it done."
Throughout everything, Jackson always remembers his ABCs:
"A-B-C," Jackson said. "Academics, basketball and character, in that order."
Jackson, whose favorite part of basketball is playing defense because he likes aggravating people, is inwardly driven and wants to motivate others.
"To me, good advice can be summed up in one thing: just do the right thing," Jackson said. "Whether it's on the court, off the court, anywhere, do the right thing in life, period. Just do the right thing whether people are looking or not."
Prohm is proud of the success of his guard.
"He's a freshman; he'll continue to grow and get better and we'll teach and learn from that, but he's been huge," Prohm said. "He wasn't Freshman of the Year, he wasn't even on the All-Newcomer team, but if you can draft players of that All-Newcomer team or you can draft Zay Jackson, I'm still going to draft Zay Jackson."