Austin Ramsey
News Editor
Haley Russell
Assistant News Editor
Paul Naberezny noticed a problem early on in the semester.
He said it began with the start of the school year – a new set of students, a new set of issues. But this year's problems, he fears, present a unique challenge to the University.
What Naberezny saw, and what has led many faculty members to take unusual retentive measures, is a rising number of inadequacies in entry-level, freshmen "Transitions" courses.
"That's my job," he said, "to kind of figure out what's happening with our freshmen."
Naberezny, lecturer-coordinator in the Counseling and Testing Center, said an analysis of this year's incoming freshman class, stemming from the retired Academic Restoration Plan, shows the usual 12 percent loss of students after a single semester possibly growing by up to 8 percent to a 20 percent loss.
"We're talking about an 8 percent difference, and that's pretty noticeable," he said. "They don't come to class, they don't turn in assignments, and they don't seem to care about whether they are doing what's necessary to be successful at this point."
In one of his own classes, FYE 100 – an introductory course for partially admitted students who have declared a major – Naberezny said approximately 25 percent of his class is failing, leaving those students even further behind in their academic degree prowess.
"Some of these people are planning on getting their degrees," he said, "but they're not really planning on getting their education."
The problem of losing freshmen students after only one or two semesters is not uncommon. In fact, Murray State's projected numbers are increasing at a similar rate to those of other universities. In November, the University of Arizona administrators announced their own 20 percent loss of freshmen.
But what is puzzling faculty here is the cause of the spike in number of failing students.
Professors speak out
Linda Johnsonius, director of the Center for Undergraduate Businesses Advising, teaches introductory courses in the College of Business, alongside two graduate students – Pallavi Thadheni from Belize and Joran Wingstol from Norway.
They too noted a decrease in student success from past years in their BPA 099 classes.
Johnsonius said she detected an anomaly among this semester's classes early on.
"When I was putting the grades in on a class, I was like, 'What?'" she said. "It seemed like half the people in the room were getting Es (failing grades)."
Her assumptions proved correct when more than 50 percent of some of her classes received failing grades at the halfway point in the semester, she said.
After several interjections on the part of her and her graduate assistants, some students' grades have risen, though the number of failures is still extraordinary, she said.
Johnsonius and her assistants said students are not only failing, but also reflect attitudes of entitlement and deflection.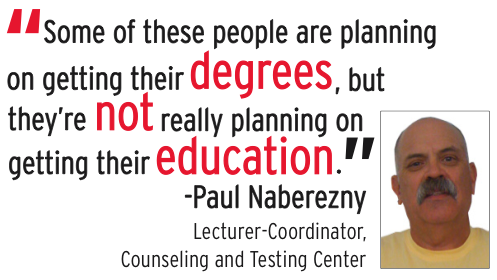 "We have simple (assignments)," Wigstol said, "like printing out your spring schedule, going to Sparks Hall and getting an undergraduate bulletin – simple things like that."
But Johnsonius said, despite the simplicity of assigned work, some of this year's freshman class simply would not attend regular class meetings, turn in homework and reacted to instructors' warnings rashly.
"Some of them, an amazing, and I'm going to use that word, an amazing number can't even assume the responsibility for it," she said. "It's not their fault, they've been mistreated, they have too high expectations and they're belligerent and rude about it."
She said she cannot explain, however, the reasoning behind these students' behaviors, when she aptly utilizes University-set precautionary measures designed to prevent academic deterioration.
Johnsonius said she and her assistants have sent out several retention alerts to warn students of their substandard grades – one before midterm postings and one after. Still, she said, students remained unresponsive, even to direct interaction in class and via personal emails.
She laughs, recalling one such personal email in which a student blamed their behavior on her, saying, "Well, thanks for nothing."
"I got one of those, too," chimed in Thadheni, smiling.
Indeed, Bob Lochte, chair of the department of journalism and mass communications, who has his own set of freshmen "Transitions" students, said he has encountered similar disparities among large portions of his JMC 099 class.
"You always have people turn things in late, and even people who met deadlines when they were in high school and they come and start to slip a little," he said. "But this was extraordinary; I'd never seen anything like it before."
Lochte said that three weeks prior, 15 students in his 59-person class had a grade of E.
Psychologists assess, students respond
The News discussed the issue of underperforming freshmen with educational psychologist Marty Dunham.
Dunham said the quandary was multi-faceted and therefore would require a subsequent remedial approach on the part of the University administration.
A recessive federal economy is one such facet that draws the recently unemployed to enroll.
"In a down economy, the number of folks in college goes way up," he said. "Always."
Dunham also attributed freshmen failures to an unprecedented number of students with learning disabilities. He said programs on campus designed to aid students with these disabilities are understaffed.
"They are doing an excellent job," he said. "But they can only do so much."
Dunham mentioned the MSU Student Support Services as one of many resources the University provides both internally and through federal funding.
Shanna Burgess, vice president of Student Support Services, who directs SSS and has taught "Transitions" courses in the past, said her program has fulfilled its federal mandate of 168 students. However, Burgess said participation is not nearly as widespread.
The students SSS and other federal Trio programs serves must demonstrate a need for academic support, along with other national standards, she said. But, she said, participation is at an all-time low.
"I don't know what it is," she said. "But there is definitely something to this."
Burgess said workshops that, in the past, drew large numbers now might bring one or two students, if any.
To illustrate another cause to the freshman effect, Dunham cited a Spring 2010 survey published in Jean M. Tweng's "Generation Me: Why Today's Young Americans Are More Confident, Assertive, Entitled – And More Miserable Than Ever Before." In the study, five psychologists found the most recent generation of young adults are the most narcissistic of any generation in American history.
He said this narcissism has been widely demonstrated across campus in faculty members' testimonies.
The College of Education Undergraduate Advising Center conducted a survey in association with The News of two EDU 099 classes this week.
An employee of the Center confirmed professors of those classes had also experienced the trend of increasing failures among freshmen. Students were asked to evaluate their transition from high school to college.
Of the 19 participants, 68 percent directly cited studying as a hard skill to learn in that move.
Brie Haner, freshman from Louisville, Ky., said student involvement in assignments impacted her the most.
"The most difficult transition would have to be the authority you have within your school work," she said. "As a student in college, it is your decision whether to complete assignments and attend class. It is in your own hands whether to pursue your own education."
Administration, SGA seek action
Regarding the University's address to Naberezny's prediction of a 20 percent freshman loss, Josh Jacobs, chief of staff, said administrators were aware and working toward a solution.
Mike Young, assistant vice president of Student Affairs, said the problem may be attributed in part to an overlap found in "Transitions" classes and partial acceptance orientation classes.
He also cited attendence issues as a possible cause.
"Any time that we're made aware of a student having difficulty in classes and needing some assistance, then we meet with those students," Young said.
Standing outside his own business "Transitions" class Wednesday afternoon, Student Government Association Freshman Senator Nathan McNichols said, while he didn't condone freshmen regarding their entry-level classes so lightly, he had begun to lose faith in the necessity of having the classes at all.
"If you have a student who is signed up for a course that they are really involved in, then they're bound to do better in that course whereas ("Transitions" classes) are a University requirement and a lot of the material that is presented in these classes is information that was presented in the summer orientations, so I think a lot of students are feeling like they are just redoing Summer Orientation for the semester," he said.
McNichols presented the statistic to the SGA Senate.
Jeremiah Johnson, SGA president, said he too had heard talk of a decrease in freshmen student involvement in their "Transitions" classes and suggested reporting the numbers to University Provost Bonnie Higginson.
Higginson told The News earlier in the week she was aware of the issue, and her office was assessing possible reactions.
"Many students are underprepared for college-level work," she said.
She said her office had reviewed issues such as announcing the need for a new retention specialist and stronger advising.
Jacobs announced an even stronger possible approach.
Jacobs said the President's Commission on Student Retention is looking at the course value of transitions classes.
"The purpose of the course is to find things that will help you succeed like obtaining their MAP report and knowing their schedule," Jacobs said. "We are looking at whether transitions are adding value or just another hurdle for students."
Contact Ramsey and Russell
Staff writer Meghann Anderson contributed to this report.