Savannah Sawyer
Staff writer
The crowd for Springer-Franklin College went crazy Monday night when Charzetta Shelbie Pittman, sophomore from Memphis, Tenn., won Murray State Idol.
"I am so honored to be representing Springer-Franklin Residential College," Pittman said. "We have a long tradition of pride in our residential college, and I am so thankful that my peers chose me to represent them in this campus-wide competition."
The song she chose to sing was "And I Am Telling You I'm Not Going" by Jennifer Holiday from the musical "Dreamgirls."
She said she initially chose this song because it showed what great vocal range she has and once she started practicing she realized there was something more to the performance.
"This song is not just about fighting for a loved one; it's also about fighting for your life in essence," Pittman said. "A few days before my performance, my big brother had a stroke and was rushed to the hospital. He was diagnosed with lupus a while ago and it is starting to take a toll on his life. He is in desperate need of a kidney transplant. I thought about him and his fight for his life as I sang this song."
She competed against the chosen representatives from the other residential colleges and received the first place prize.
"I feel extremely privileged to have even had the opportunity to compete with such great singers," Pittman said. "Everyone was so passionate about what they were doing and it was truly a pleasure to even be around such musical people."
One student from each residential college was selected to move on to the final round.
"My biggest competition was Chase Harris," she said. "He's in the Concert Choir and he's a voice major."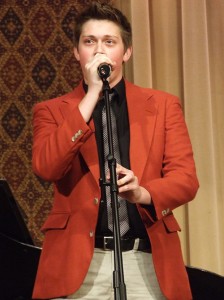 Harris came in second place and represented Hart College. He sang "Just the Way You Are," by Bruno Mars.
"Most of the participants have had formal training or have participated in many singing activities or organizations," Crystal Coleman, co-chair of the event, said.
The contestants were judged in four categories including stage presence, voice quality, audience appeal and originality/interpretation.
Jason Robertson, sophomore from St. Louis, attended Monday's event and said he enjoyed Pittman's performance.
"She had a great voice," he said. "She had soul."
Pittman auditioned for the competition because singing is such a big part of her life.
"It's what I want to do for the rest of my life, and music is how I want to inspire others to express themselves," she said. "This was one of the highlights of my semester. I will remember that night for the rest of my life, and I will cherish those moments."
She also wants to inspire and encourage students to audition for next year's competition.
"Remember to stay true to who you are. Don't do anything to please others because your opinion is the one that matters most. Also, remember that you are representing your residential college. Be prideful. Most importantly, have fun."
Contact Sawyer