Kyra Ledbetter
Staff writer
Despite its last tournament ending early due to rain, its golf team is ready to end the fall portion of their season on a positive note.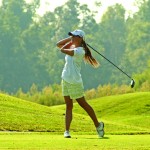 The Arkansas State University Red Wolves Invitational was stopped prematurely by sudden rain on Tueasday, leaving the Racers three strokes behind and in second place to ASU.
"I think we could have won the tournament," Coach Velvet Milkman said. "We closed the gap, we were only three back with another round to play. I think we could have certainly had a chance to win; we just didn't get the chance to finish. We have to look at it as a positive – we played well today and yesterday, we just didn't make the putts we needed to. "
Disappointment aside, Milkman said she was proud of her team's performance.
"I was pleased with the way we played the first day," Milkman said. "Obviously I'm disappointed that we didn't get to finish the tournament. I felt like we were making a run at them and it was going to come down to the wire, but there's some things you can't control. We just have to look at it as a positive experience. I'm proud of the way that they played in the weather today. They showed a toughness that will certainly serve them well in the future."
The good news, Milkman said, is this weekend the Racers have another chance to beat the first place ASU in the Middle Tennssee State University Invitational.
"I really don't look for them to be the best team in the tournament, but we didn't get to finish it today, so we'll get another shot at them this week," Milkman said. "We don't really focus on one team in the tournament, though, we want to go out and look at the course on Sunday, get a good practice round in, and go from there."
Milkman said she anticipates the rest of the field being stronger than most of the others her team has seen this season.
"I think they'll be strong," Milkman said. "There are a lot of Sun Belt teams, and some teams that we haven't seen this year. Top to bottom it'll probably be the second hardest tournament we've played in this fall."
Given who the competition will be, Milkman said she will continue to push her Racers to improve their short game in the coming week.
"What we're really going to work on is our short game and striking the ball well and hitting it close, just not converting some of those 10 or 12 foot putts that win the gold tournament," Milkman said. "So we're going to focus on that. We usually putt OK, but we need to continue to get better in that area to win."
Though Milkman said her team still has things to work on, she also that they're ready for the last match of their fall season.
"Today was cold and rainy and windy and they hung tough," Milkman said. "So I feel like we've gotten better as we've experienced things. Any time you win you certainly do things that help you handle the pressure. They've learned adverse conditions, so that's made us a better team. I think our schedule this fall had prepared us for this event."