Paige Graves
Staff writer
Playhouse in the Park invites the public to witness a thrilling game of cat and mouse as the production of "Wait Until Dark" comes to the stage tonight.
Randy Johnson, first-time director, said her involvement has been a memorable experience.
"The set is huge, a great deal of which the audience will never see," she said. "There are nearly 100 props, things burn, nothing is immune from being thrown, there are fights and the actors have to move in complete darkness. Coordinating all the elements to make the story a thrilling shocker has been a consuming force in my life. The cast, crew and volunteers continue to impress me with the magnitude of what they can accomplish and I look forward to presenting an evening worthy of kicking off the Halloween season."
"Wait Until Dark," written by Frederick Knott, is a classic thriller set in a 1960's basement apartment in Greenwich Village. The audience is introduced to newlywed Susy Hendrix, a woman recently blinded in an accident.
Her husband, Sam, unwittingly acquires a doll containing heroin, and when con men recently released from prison become involved after hearing about the doll, the atmosphere is rapidly transformed into a world of desperation and fear.
"At first Susy's blindness seems to be a real advantage to the con men," Johnson said. "But they have underestimated her heightened sense of sound, smell and her excellent memory which eventually leads to an unexpected turn of events. The story also explores the connection between our emotional and physical vulnerability."
Johnson said the play will appeal to anyone who loves to be scared, or who finds unexpected thrills in the dark. Johnson does advise that children under the age of 10 might find the production too intense to attend.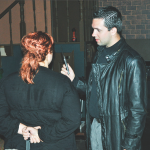 Joshua Byrne, senior from Murray, said the production is better known by its film adaptation starring Audrey Hepburn and Alan Arkin.
"I'm playing the part of Sgt. Carlino, one of the con men," Byrne said. "He is the rather 'thuggish' New York type and an accent was a huge requirement. I've been spending a lot of time watching and reading about dialect training, proper placement of words and just talking with a New York accent in general. That aspect of the show has definitely helped me grow as an actor."
Byrne said the cast has been rehearsing since Sept. 12.
"So much time and patience has been put into this show," Byrne said. "We've been rehearsing every week night from 6 to 9 and we've even pulled some weekend rehearsals. Rehearsals can be stressful, but with a show with such intricacies in blocking and so many technical aspects, that's to be expected. Randy Johnson is directing for her first time and it's been a joy working with her."
Byrne said the play has some moments that are unique only to the Playhouse stage, and he encourages the community to attend.
The play will run for two weekends at 7 p.m. Fridays and Saturdays and 2:30 p.m. Sundays. Tickets are $8 for children under 12, $9 for students and seniors (60+) and $11 for adults.
Contact Graves