Allyson Putman
Staff writer
Students caught a glimpse of the 1969 music festival scene Sunday as they flocked to the intramural fields for Clarkstock.
Clarkstock is a Woodstock-themed fundraiser hosted by Lee Clark residential college for the past three years. At the event, students have the chance to listen to live music from local bands and play games with one another.
Attendees could also purchase tie-dye T-shirts for $10 and food for $1. The profit from these sales went to support the children at the Main Street Youth Center.
Frank Bozelka, senior from Chicago, is a residential adviser at Clark College and spearheaded this year's event.
"It's been a lot of work, but it's been really fun," Bozelka said.
The residential advisers, residential director and college head of Clark College worked together to coordinate Clarkstock.
Though the event is put together to support the college's philanthropy, it also provides an opportunity for students to come together and listen to music while spending time with one another peacefully, just like Woodstock.
"When Neil Lovett started (Clarkstock), he wanted to go with the Woodstock theme," Bozelka said. "We haven't changed that much."
He said there were 150 students signed in at the last year's Clarkstock, with several more mingling. He estimated a similar number of attendees this year.
There were six bands performing this year, along with four or five single or duet acts, Bozelka said. Many of the performers were Murray State students.
Colton Givens, junior from Morgantown, Ky., was among the performers. Givens performed The Beatles' "Here Comes the Sun" and many other well-known tunes, including a Coldplay medley, on acoustic guitar.
A mostly self-taught musician, Givens said he has been a guitarist for many years. He said his grandfather gave him his first guitar.
"I've been performing at church, open mic nights and things like this since I was about 12," he said.
This was his first time performing at Clarkstock and he said it was a pleasant experience.
"I've really enjoyed it," Givens said. "It's a nice day and I'm glad to be a part of it."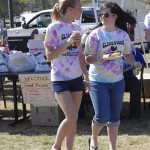 The musicians were not the only ones having a good time Sunday, as many participants were happy to take part in the festivities as well.
Enrique Walker, junior from Hopkinsville, Ky., attended Clarkstock for the first time this year. He said he really enjoyed himself at the event.
"It was a really awesome experience," Walker said. "Seeing my friends play for a good cause was really cool."
He said his favorite band was Barefoot and Blue because he has two friends that perform in the band.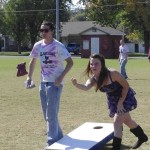 As successful as Clarkstock was in entertaining the attendees, it was also successful in its fundraising efforts. Bozelka said the event raised $200 for the Main Street Youth Center. The fundraising is not over, as Clark College is still selling T-shirts to those interested.
For more information on about Clarkstock T-shirts, contact Bozelka at frank.bozelka@murraystate.edu.
Contact Putman