Savannah Sawyer
Contributing writer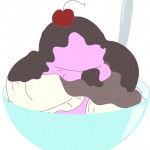 The temperature may have dropped but that will not stop the community from going out to the Murray Ice Cream Festival, today and Saturday on the Court Square in downtown Murray. The event will feature activities for all ages and, of course, free ice cream.
One of the main events this year is the Scooper Bowl, sponsored by the Rotary Club of Murray, University Book & Bean, Electric 96.9 and Willie 102.1. The event is scheduled for 6 to 9 p.m. today.
Greg DeLancey, chairman of the Scooper Bowl, said registered non-profit groups pay $25 to enter the contest. The contest involves the groups making homemade ice cream in local certified kitchens.
The winning teams, chosen by the public, will split up to $3,000 in prize money, according to the ice cream festival website, murrayicecreamfestival.com.
"Those who wish to eat ice cream simply pay $5 for adults and $1 for children and can eat all the ice cream they want," DeLancey said. "Attendees receive a spoon and a ticket. Once they've sampled the ice cream they vote for their favorite flavor or their favorite charity."
DeLancey, whose favorite flavor is rocky road, said it is a friendly competition.
"We say all's fair in love and ice cream tasting," he said.
According to the website, they raised a total of $4,700 last year. After awarding prize money to the winners, admission funds are split evenly among all participating organizations.
Deana Wright, director of Murray Main Street, said eight organizations participated last year and this year there are more than two dozen participating.
"The only set goal for this year is to get more participation from community members to help the non-profit organizations earn more money," Wright, whose favorite flavor is chocolate mint, said.
During the Ice Cream Festival there will also be a Cruise-In series sponsored by Top Gun Car Show taking place from 4 to 9 p.m. today on the Court Square in downtown Murray. The Cruise-In is free for everyone and open to all cars, trucks, motorcycles and tractors.
Other activities include games and inflatables, which will take place from 5 to 10 p.m. today and 10 a.m. to 5 p.m. Saturday. Today's other events include characters of the "Star Wars" universe scheduled to be at the festival taking photographs and greeting people from 6 to 10 p.m. as well as a free movie on the square featuring "Return of the Jedi," which begins at 8 p.m.
Throughout the rest of day there will be more events taking place, such as a NASCAR Simulator, face painting, hair painting, climbing wall and food.
Other activities for Saturday include a climbing wall, NASCAR Simulator, face painting, free Purity ice cream offered from noon to 5 p.m. and Ice Cream Idol from 1 to 5 p.m.
Contact Sawyer