Dylan Stinson
Staff Writer
If you live in Murray and care anything about college football, it's going to be extremely difficult to be apathetic about the upcoming season.
After a slow start to the 2010 season, the Racers finished on a high note, winning five out of their last six games. In the off-season, the Racers have been looking to capitalize on their momentum from the end of last year and bring it to the start of 2011.
Two of the Racers' biggest momentum-bearers are junior quarterback Casey Brockman and senior running back Mike Harris.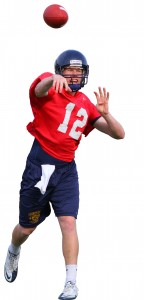 Casey Brockman last season:
Brockman became a household name in the Ohio Valley     Conference when he re-wrote Murray State and OVC record  books by throwing for 570 yards and seven touchdowns while running for 16 more yards and another score in his first start of the 2010 season.
Brockman somehow consistently kept his numbers huge, ending the season with 2,442 passing yards and 15 touchdowns, while gaining 292 more yards and seven touchdowns on the ground.  He received numerous awards for his achievements including Second Team All OVC, Second Team All-Commonwealth and College Football Performance Awards National Offensive Player of the Week.
Offseason:
Brockman received many pre-season awards including, 2011 Payton Award Preseason Watch List, 2011 Top 10 FCS Quarterbacks, The Sports Network 2011, Preseason OVC Offensive Player of the Year, 2011 Preseason All-OVC Quarterback.
Despite all the praise, Brockman has been hard at work this offseason.
"My arm's gotten a little stronger, and my knowledge of the offense has gotten better," Brockman said. "I have a better understanding of where everybody is going to be and at what time."
What to expect from Brockman: Obviously the expectations are high for Brockman but he's already proven that he can lead his team to victory, and that was when he was still getting used to a new offense.  Now that he's had an entire off-season to learn the ropes of Coach Chris Hatcher's offense there's no telling what he will be capable of. Be expecting big numbers from Brockman again this year.
Mike Harris last season: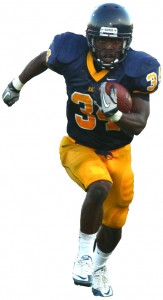 Harris was named 2010 Second-Team All-Commonwealth, 2010 First-Team All-OVC Running Back. Harris carried the ball 139 times for 904 yards and 10 touchdowns and added 28 catches for 166 yards and a score. He finished the season ranking second in the OVC, and 21st in the FCS, in rushing yards per game (100.44).
Offseason:
Harris was named to the 2011 Top 10 FCS Running Backs list, The Sports Network 2011 Preseason First-Team and received All-OVC Running Back honors. Harris spent the offseason gaining speed and growing in knowledge of Coach Hatcher's offense.
"I've been getting stronger, faster, wiser on the field – being able to break down defenses and being able to know what they're doing before we snap the ball," Harris said.
What to expect from Harris:
There were many reasons Harris was named an All-OVC running back, Harris is a versatile player with the potential to out-run most defensive backs but also has the ability to run through linebackers. Expect to see the ball in Harris' hands a lot this season, and be expecting big, exciting things to happen when he has it.
What to expect as a fan:
When speaking of the Racers as a whole, Harris said fans have a lot to be excited about.
"We're planning on winning this year," he said. "Winning the OVC, winning the whole conference, winning the national championship, it's going to be exciting."
Contact Stinson